First impressions weren't great. On the way in, the place kind of just resembled a strange industrial park where the low-rise sun bleached buildings were only broken up by big cars and palm trees. The outskirts of the city took on a sinister tone with the presence of hundreds of oil derricks bobbing up and down like huge black animals pulling the black gold from the ground. Maybe it was only sinister because we watched 'There Will Be Blood' a couple of weeks ago. The towering black monolith of the Larry Flynt building was an apt introduction to the district of L.A. in which we were staying.

There Will Be Blood
We stayed in a pretty swanky hotel that not only had crap pictures of ladies breasts and legs above the beds but also had bottles of pure oxygen for our breathing pleasure scattered about the room. I was feeling a little light headed from all the breast augmentation i had already witnessed in Beverly hills and at about $15.00 a time we decided to give it a miss and stick to the nitrogen tainted rubbish available.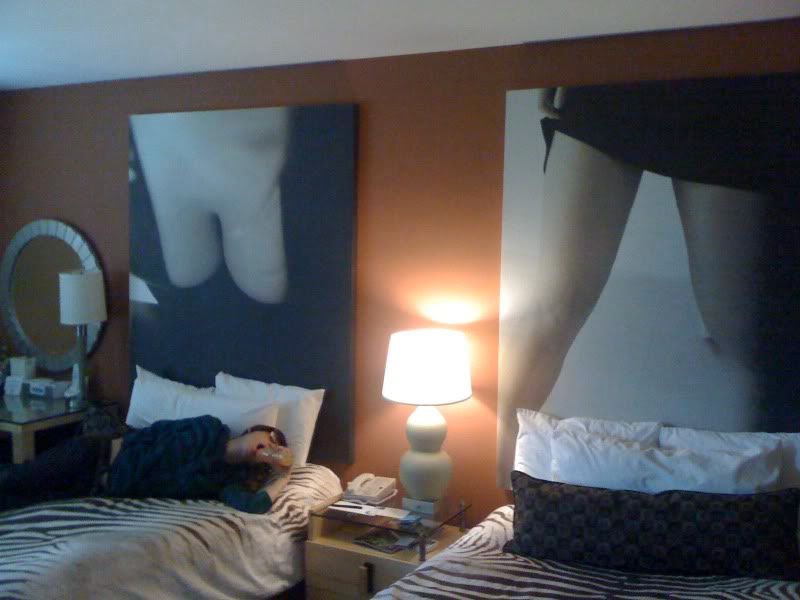 Suggestive?

Outside the hotel.
Before the gig we all had a bunch of meeting and greeting to do with people who seemed to be excited to meet us. Many from the L.A. division of our record label, iTunes and video directors with whom we may well work in the future. From what we could gather this part of town is pretty much dedicated to this kind of entertainment based activity. By the time we went onstage the venue was filled to it's 400 capacity with some weird and wonderful people. Some more strange than others. The dancing mentalist with the huge grey beard in the balcony being one of our favorites. The show went well…..

We got Fanfarlo vinyl yo!
After a pretty dodgy nights sleep due to my increasingly painful fractured ribs i was up at the crack of dawn to go catch breakfast at the famous Mel's Diner which starred in the cool film American Graffiti. After this we headed to the Famous Record Plant recording studio record bonus material for our iTunes release of Reservoir. The 9 hour session went well and most importantly we all got free iPods.

Mel's Diner. Sadly no sign of Mel.

iTunes session.
After the iTunes shenanigans, our manager Dean who feels at home in L.A. and, who like me, loves the glitz and unashamed vanity, took us to his favorite Sushi restaurant where he took the relatively sushi-naive Fanfarlo on a trip that started with amazing, delicious pieces of Sea Bass and Salmon and finished in revolting full bodied insectoid type things and raw urchins that made some of us feel sick as dogs. An interesting and artistic culinary exercise but in my opinion thoroughly unnecessary.
The morning sees us up at first light AGAIN in order to play a 40 minute long live session and video feed that is always a bad idea when you look like shit due to sleep deprivation and a bunch of rotting sea beasts in your gut. Regardless of this we pulled off a corker of a show as a farewell salute to Los Angeles before running at top speed back to LAX airport to jump on yet another flight to another beautiful, sunny west coast city.

Beverly Hills 90210
In fact, I'm writing to you from a flight now and someone has just thrown up. Sigh…
Justin