So people have started complaining that all i talk about lately is bikes.
Fanfarlo and their bikes:-

Simon and his sofa bike.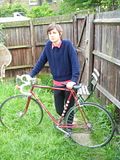 Cathy and her 10 speed racer .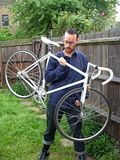 Me and my fixed gear Dream boat.
Out of town gig days usually comprise of super early sound check and then a whole lot of spare time trying to occupy ourselves before the gig.
To eleviate our boredom on our recent excursion to Norwich, Cathy and i decided to check out the super quaint town on our managers fold up bikes (Bromptons).
Some pretty impressive street racing ensued and we bumped into a bunch of guys on some pretty sweet fixed gear bikes in the local park.
Naturally we hung out a bit, talked about bikes, whacked the guys on the guest list and then proceeded to have one of the most enjoyable gigs of the tour.

Cathy on a Brompton.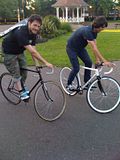 Matt and Adam (dudes from Norwich) on Fixes.
Justin
At time of posting i'm listening to BEHEMOTH-Thelema 6