The other night Amos and i attended the album launch and art installation of the Rice boy Sleeps project that is Jonsi (Sigur Ros) and his partner Alex. The invite only event was held at Maison Bertaux which is a rather hip little french cake shop in Soho that has been frequented by Soho bohemians for like a hundred years or something such as Francis Bacon and more recently The Mighty Boosh funny men.


Rice Boy Sleeps' lovely pictures.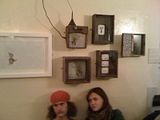 Some hippies having crazy fun.
Icelandic Finger food (seaweed) and Icelandic Schnapps was being handed out by pretty half naked boys in native American Outfits. I had a rather interesting Conversation with film maker Nick Abraham about his new film about Depeche Mode fans called ' The Posters Came from the Walls' and his crazy conversations with a Baghdad priest.


Miss Bardelli and Amos.
My +1 for the evening was the Lovely Miss Bardelli who entertained herself by stealing balloons from the installation in the basement, proceeded to annoy me with them and then letting them fly away and attempting to hide her tomfoolery behind some absurd philosophical facade.


Miss Bardelli and the stolen inflatable art.
Justin