On Sunday i went and called for Amos to see if he wanted to come out and play. As it happened he had to return the tour bus to the depot from our gig the previous day so we bundled our bikes in the back and headed to Golders Green to return the van.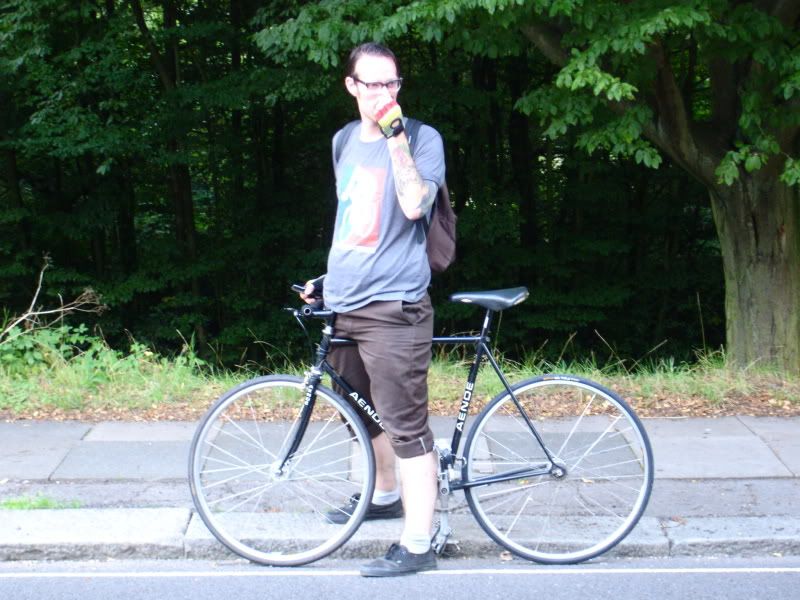 Once we had dropped off the van Amos on the pink BROMPTON and me on my Fixed gear/wheel AENDE headed south through Cricklewood and Hampstead heath. We whipped out the camera as we spotted this rather amusingly altered sign.
We shared a look of acknowledgement with a dude taking a photo of the same sign. He rather sheepishly asked us if we were the dudes from FANFARLO. Corey turned out to be a fan on holiday from Colorado who had been enjoying the album not half hour before in the park. We had some photos taken together and chatted about bikes for a bit before going our respective ways. Hope to see you at a gig near Colorado soon dude.
We then rode to the top of Primrose Hill and down again where i went arse over tit trying to play the big man and skidding down said hill. All i heard as i flew through the air was ''told you'' as Amos rode away, embarrassed and pretending not to be with me.
Justin